Fair Trade & Organic Coffee

| | |
| --- | --- |
| Just Us! Coffee Roasters Mural | Source: Brian Teepell Photography |
PRECIOUS ROOM BY MURIEL PIASER
Responsible Author: Ruby BIRD & Yasmina BEDDOU (Journalists/Directors) | PARIS, 03/09/2023, 07:33 Time
USPA NEWS -
Precious Room by Muriel Piaser "The Meeting Place for Fine Jewelry and High Jewelry Designer" is a New Concept as the Most Exclusive and Intimate Meeting Point for the Fashion and Jewelry Market in Paris. A Real Opportunity to present a Specially Designed Collections to Industry Key Market Players, Leaders Opinion of the Fashion Community.
UN warns against starvation
Responsible Author: Jose A. Martin | Madrid, 03/03/2023, 16:52 Time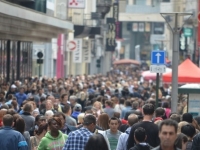 USPA NEWS -
The world population reached 7.888 million people at the beginning of this year. According to the United Nations, maintaining the current number of births, in 2050 we will be 10,000 million. Some experts maintain, however, that by the end of this century that figure will have almost tripled to 27 billion people on the planet. The UN warns that there will not be enough food for so many people and is studying how to increase food production, improve its distribution and reduce birth rates in developing countries. Overpopulation has been confirmed as a problem that is difficult to solve, and experts say that it is necessary to solve it to guarantee the future of Humanity.
| | |
| --- | --- |
| | RAHMA-SOPHIA RACHDI |
| | Daren Frankish |
| | Ruby BIRD |
| | Aurangzeb Akbar |
| | Yasmina BEDDOU |